I spend a lot of time training on my bike. I regularly go for two hour rides but all that said I still haven't installed a bike computer onto my bike. And why would I? With these applications I have one with me wherever I go with my phone. You can even get a device to mount the phone to your handlebars. How cool is that?
Map My Ride+ – GPS Cycling and Route Tracking with Calorie Counting
I love this app. It is honestly one of the best apps I've found out there for mapping a bike ride and tracking a route. Sure, it messed up a bit when I did a switchback climb through the mountains and sometimes it tells me I'm going 90 mph (whoo!) but in all this app is excellent. The plus version allows you to control your music from within the app as well as tagging photos. One of the few apps I'll gladly pay for!
Download
Map My Ride – GPS Cycling and Route Tracking with Calorie Counting
Wait, didn't I just talk about this? Sure, but this is the free version so if you're not sure about paying start here. My guess is that you will eventually love the app so much that you'll pay for the other features. On both the paid and free app you have to register for the website (free) but that allows you to view your rides online and share them with others. This site is well known among the biking community so if you have friends that ride you will probably find them here.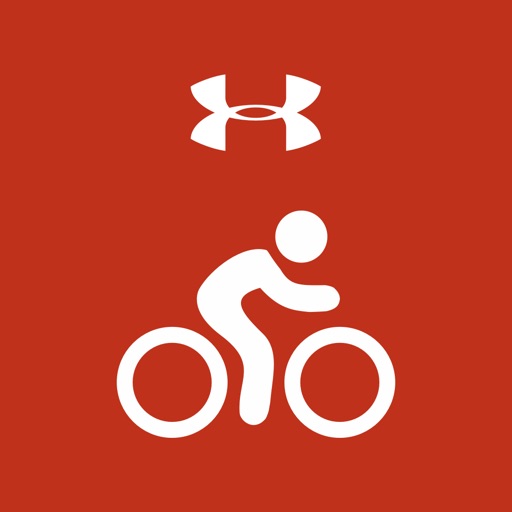 Download
The Bike Computer
Another great app. This one is probably the best huge display so you can see all of your information easily should your computer be mounted to your handlebars. That said it's not any more accurate than any other bike app (sometimes you're able to go 90mph!) so some of that info isn't all that useful. That said if you're just looking for a good display to see how far you've gone in how long this is a great app for it.
Trektivity
This app has a slightly smaller read than The Bike Computer because it includes a map below the read showing where you are. For many rides this might not be useful but if you're exploring new terrain it's definitely nice to have. There's no way to export this activity to a website or elsewhere so no sharing is really allowed but if that isn't a big deal to you then this app will work well.
Search for more